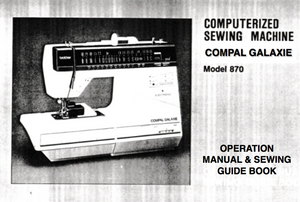 BROTHER Compal Galaxie (870) Instruction Manual (Download)
This is a pdf download, scanned from an original, of the manual for the Brother Compal Ace (model 870) computerised sewing machine.
This was the 'Talking' sewing machine due to the featue where messages (such as 'Please lower the presser foot' etc.) were spoken, in a rather annoying 'schoolmarm' voice, instead of just being shown on a screen. This function often no longer works as the loudspeaker has been disconnected because the use, after a while, has found it so irritating.
We also can supply this as a printed hard copy which you will find on a separate listing.
This copy of the manual is not of the highest quality but it is all there and legible. It is the best we have at present as it is not easy to find because the machine is not that common. It was very expensive when new and therefore fewer were made than most other models.

It has 83 pages and postage on hard copies is free.

You can verify whether you have the correct manual for your machine by comparing it with the picture.